A study coordinated by the Portuguese Water Partnership
This study, available in English, wa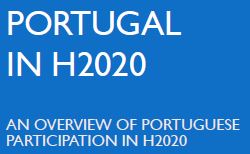 s developed under a protocol with GPPQ – the Portuguese Office for the Promotion of the RTD Framework Program / FCT – Foundation for Science and Technology / ANI – National Innovation Agency, and focuses on the first three completed years of Horizon 2020 (2014-16).
Some of the findings highlighted by this study are:
Overall, the Portuguese participation in these EU Programs has consistently grown over the past 15 years, both in absolute terms (above € 100m / year) and in terms of "market share" of the total financial envelope (1.58%, a percentage higher than the Portuguese share of EU GDP);
The water sector represents about 5% of the universe of funding obtained by Portuguese participants in H2020 projects;
Specifically, in the period under analysis (2014-16), we have had 60 participations by Portuguese entities in 37 Water-related projects, with an average EU contribution per participation of around 300 thousand euros;
In short, although our water sector has been showing a good positioning and performance in H2020, we believe there is ample scope for continued success and growth in the future!
Download the study here.